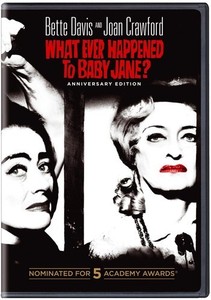 By Debbie Elicksen.
Whatever Happened To Baby Jane? (1962) was written by Henry Farrell and Lukas Heller, and was directed by Robert Aldrich. It is a classic psychological horror about a relationship between two sisters: one a child star and the other an adult movie star.
Nobody does crazy like Bette Davis, who plays the adult child star Baby Jane Hudson. Jealousy, madness, and evil make up Davis' character, proving that she is the queen of horror.
During Baby Jane's only success, singing and dancing as a beloved child star, her sister Blanche Hudson (Joan Crawford) was always overlooked, even by her own father. The movie fast forwards to the future, where Blanche, who was a major movie star, is now confined to a wheelchair and has to rely on her sister to care for her.
Whatever Happened To Baby Jane? won an Academy Award for Best Costume Design, Black and White. It was also nominated for four more Oscars: Best Sound; Best Cinematography, Black and White; Best Actor in a Supporting Role (Victor Buono); and Best Actress (Bette Davis).
This is good enough for five out of five stars.