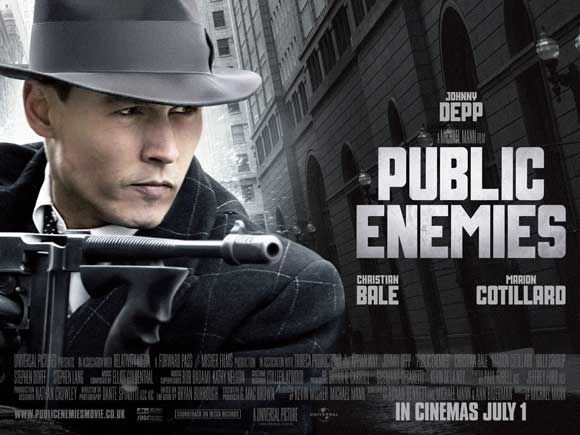 By Debbie Elicksen.
Michael Mann could have shaved a half hour off Public Enemies (2009) before its final production, but even as it stands, it's a good depiction of the notorious bank robber John Dillinger (Johnny Depp) and the birth of the Federal Bureau of Investigation.
Christian Bale (Melvin Purviss) and Marion Cotillard (Billie Frescette) played strong supporting roles.
Dillinger was played to perfection by Depp. This is the type of role that seems tailor made for him: devious, ruthless, engaging, and Robin Hood-esque.
While the story and the characters are well orchestrated, some of the movie's sound mechanics are a bit annoying. It's not a pleasant experience when you have to crank the sound to hear the whispered dialogue, only to have your eardrums blasted in the next frame when the machine guns go off. There were a couple of moments (more at the beginning) where the background music drowns out the conversation. Dialogue and action were many octave scales away from each other. I get that the gun sounds are authentic, but couldn't the audio be a little more consistent?
If you can get past the sound issues, it's a fun gangster flick for mob movie and Johnny Depp fans. It gets two and a half stars out of five.